1 - Roblox Studio Basics
Introduce students to the course and projects they'll be working on. Then, develop foundational skills such as manipulating parts and creating scripts by creating a simple obstacle course. Once these skills are mastered, students can go on to code an adventure game in later sessions.
10 and up
Computer Science
Game Design
Learning Objectives:
Manipulate 3D parts to create an obstacle course.
Create scripts using variables and loops for in-game visual effects.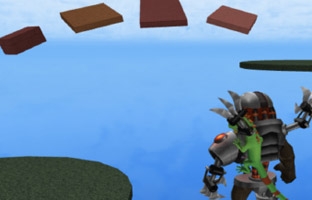 Skills and Concepts:
Variable - A placeholder for information in code.
String - A variable that can store whole sentences, written in quotations.
---
Getting Ready
Preparation:
Make sure each student has a Roblox account and knows their login information
Print out handouts
Download and load the Adventure Game for the Introduction
Materials:
Windows or Mac Computer with Roblox Studio installed
3 button mouse with scroll-wheel
Lesson Overview
Introduction

Introduce the project and course.

Guided Tutorial

Roblox Studio Basics

Teach the basics of using Roblox Studio while building a simple obstacle course.

Guided Tutorial

Creating Scripts

Introduce coding by creating a script that displays text.

Wrap Up

Recap the lesson and concepts learned.
---
Lesson Plan
Introduction
5 min
Grab student attention by playing an example of the finished adventure game.
Players explore a world to collect items and upgrade their backpack.
Call out that students will create and customize the game to their own vision (e.g. collecting cupcakes in a fantasy world or harvesting iron on the moon).
Outline the sessions in the course
First two sessions focus on developing skills in game design and coding by making practice projects
Will spend rest of sessions developing an adventure game
Explain this session will be learning basics of Roblox Studio by building an obstacle course
Obstacle course will be for practice, but can include elements of it in their adventure game.
Guided Tutorial - Roblox Studio Basics
35 min
Lead students through the following tutorials:
Skip the section: Game Design Principal Theming so students can focus more on building skills. They'll have an opportunity to add theming in the adventure game.
As you teach, keep in mind the following:
Remind students to rotate their camera view to get an accurate view of their project
Encourage students to use the Explorer, a foundational skill in Roblox Studio
Guided Tutorial - Creating Scripts
15 min
Lead students through the following tutorials:
Wrap Up
5 min
Recap what students have created and vocabulary learned: variable and string.
Previous
Roblox Developer 101
Next
Project Intro & File Setup